External Connections Introduction
General
The final stage involves connecting the RX to the outside world. Specifically, we need to provide for:
Power - the power leads can connect to a well filtered, regulated DC source fromn 9 to 13 Vdc.
RF - need to connect the antenna and antenna return terminals to a 50 ohm antenna tuned for the specified band
I/Q Output - connect the I and Q audio outputs of the RX into the PC via the stereo input of its sound-card. Normally, this will connect to the stereo "line-in" jack; depending upon the PC/Laptop, you might need to use the stereo "MIC" jack.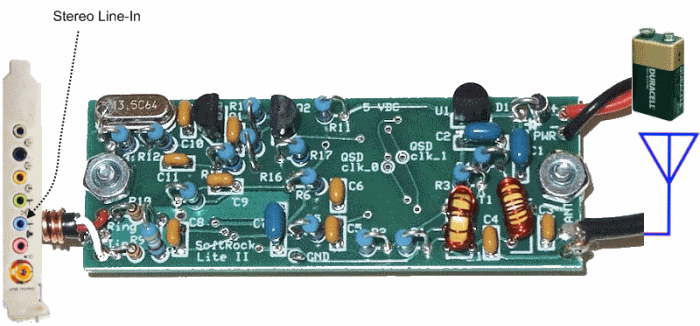 Ground Loops
If your display shows numerous peaks/spikes up and down the spectrum, these are likely caused by ground loops (since the spectrum is a display of I and Q signals in the audio/near-audio range).
Doug, WA3DSP, advises:
The SoftRock boards have a number of places where you could create a ground loop. The antenna should not be one of them as long as you isolate BOTH sides of the connection. In other words do not use a shell grounded BNC or other coax fitting on a metal chassis. I use an isolated shell BNC. The power connection is another place where a ground loop could take place. Of course running on a battery would eliminate that as would powering from a wall transformer.
The only two things left are the audio connections and the USB connection, if you use it. Both are grounded at the computer so in most cases a ground loop would not happen here.
So first make sure you antenna and power to the Softrock card are isolated. You don't need USB to receive so you could disconnect that. Then you would only have one grounded connection to the card and if you are still having problems it might be something else.
Alan, G4ZFQ, puts it this way:
"Ground loop" says it all. The RX must be connected to the computer by just one ground. The PSU is a common reason, somtimes the antenna. There is no simple answer, as you indicate, different setups seem to have different answers. It should be posssible to greatly reduce the problem but experimenting is the only real answer. Check what is grounded and try disconnecting duplicated ones. Multiple connectionas between the SDR and computer may be acceptable if they are run together. Bad audio cables picking up external noise is another thing to look for.
(
go directly to build notes
) (
go directly to build notes
)
External Connections Bill of Materials
Stage Bill of Materials
(resistor images and color codes courtesy of WIlfried, DL5SWB's R-Color Code program)
| Check | Count | Component | Marking | Category |
| --- | --- | --- | --- | --- |
| ❏ | 1 | 2 conductor shielded audio cable | | Cable |
| ❏ | 1 | antenna COAX | | Cable |
| ❏ | 1 | power leads | | Cable |
External Connections Summary Build Notes
Install Power Connection
Install I/Q Audio Cable Connection
Install Antenna Connection
External Connections Detailed Build Notes
Top of the Board

External Connections Testing