Calibrate the Program Introduction
General
In this optional stage, the user can enhance the accuracy of their program by performing a one-time calibration of the program. So long as the user has the same PC, soundcard, and RLC-Meter board, and the recording and playback levels are set at max and exactly balanced stereo channels, this will not need to be repeated again.
The RLC Meter takes an ac voltage from the PC's soundcard which is a known, reference voltage (Vr) at a known frequency (determined by the SigGen setting) and applies it to the input of one of the unity-gain opamps and also to the known reference resistance (Rm) in the resistance ladder.
The component under measurement has an unknown impedance, Z?? (which is the general case of resistance, made up of a resistive (R) part and a reactive (X) part). Z?? and Rm, together, make up a voltage divider whose output, Vx, is fed into the other unity-gain opamp.
The computer receives Vr and Vx via the soundcard's stereo inputs and uses them, plus the knowledge of the frequency and Rm to calculate the unknown impedance.
The calculation assumes away the effects of stray capacitance and inductance in the circuit. The values of "Ctare" and "Ltare" are input by the user and used to allow the computer to compensate for these stray reactances.
(
go directly to build notes
)
Calibrate the Program Schematic
(
Click for Full Schematic
)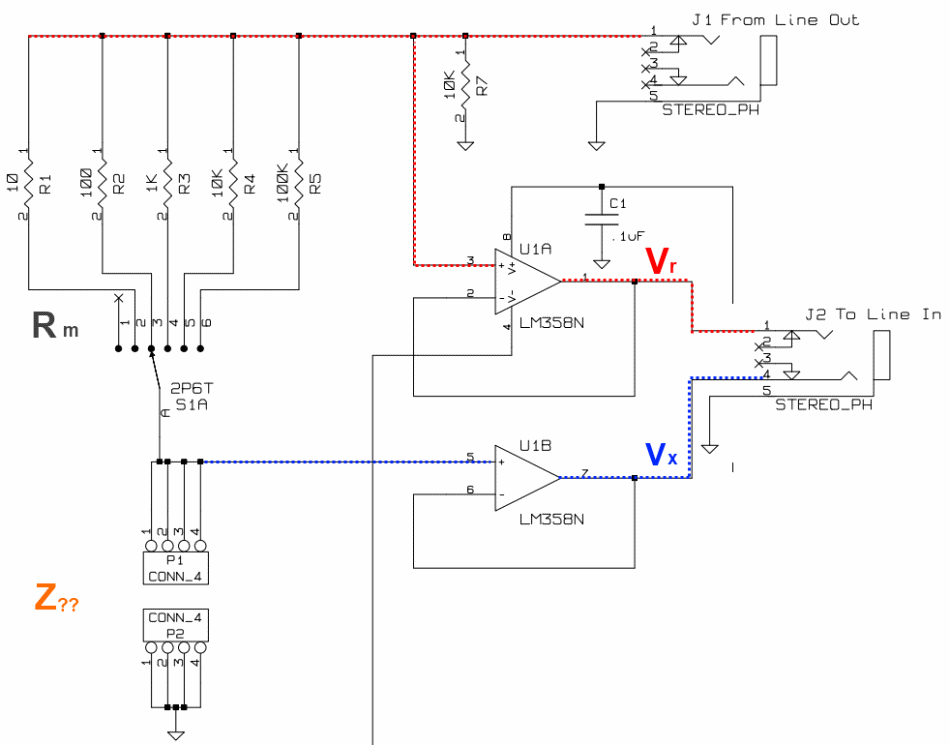 (
go directly to build notes
)
Calibrate the Program Bill of Materials
Calibrate the Program Summary Build Notes
Setup the Signal Generator
Establish the Reference Resistor (Rm)
Setup the Board
Capture Some Data
Calibrate The Program
Adjust for Stray Reactances and Resistance
Calibrate the Program Detailed Build Notes
Top of the Board

Calibrate the Program Completed Stage
Top of the Board

Calibrate the Program Testing